Warning: Spoilers
Steven Universe's upcoming game Save the Light (a sequel to their mobile game Attack the Light) will not only feature new gameplay, but also new characters. So far, we have two new characters: Squaridot and Hessonite.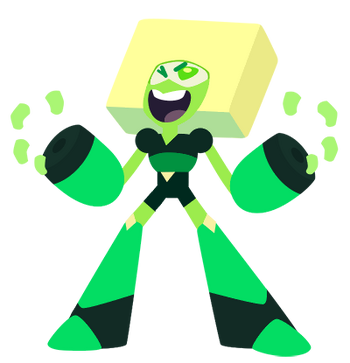 Right away, they reminded me of two other characters: Eyeball Ruby and the upcoming Emerald.
Now, what did you notice right away about all four of these characters?
They all only have one eye, and they're all antagonists.
If you recall my post on Kubo and Casual Ableism you'll remember I hated it for using blindness as a metaphor for evil and emptiness (I might not have minded except Kubo LITERALLY is at risk of going blind). I mentioned a little bit on how it's not uncommon for a lot of villains to be disabled (and beaten by the able-bodied hero), but here I want to go into more detail.
It's very common in media to give a villain a physical disability. In both Kingsman movies, the main villains' henchmen sport missing limbs (Gazelle's famous bladed prosthetic legs, and the new henchman has a robotic prosthetic that becomes a plot device). Hellboy, one of my favourite movies of all time, has a villain who doesn't speak and suffered from surgical addiction, leading him to be extremely deformed (and of course he has a prosthetic hand). Lots of Bond villains sport disabilities. And of course, the famous Darth Vader is characterized as being "more machine now than man" until the very end of Return of the Jedi.
This is all a small sampling of a pervasive and dangerous trope: The Evil Cripple. A contrast to cases where a character's disability is meant to elicit sympathy (or pity) or teach a lesson, this character is meant to be shown as dangerous and less than human. While we seem to be moving on from making villains queer-coded, it's still very common for villains to have disabilities: the main villain in Logan has a robotic arm, and Dr. Poison in Wonder Woman wears a facial prosthetic.
I want to emphasize the one-eyed antagonist (from the embittered grump to the full on villain) because it his two targets: people who cannot see fully and people who don't "look right". It makes it clear if you have only one eye, you're not "complete". And it's very easy to slip under the radar.
This is a trope that is very outdated and needs to stop. Instead of routinely making villains look "wrong" and "monstrous" and "robotic", we need to make more positive characters with disabilities, like Toph from Avatar: The Last Airbender or Furiosa from Mad Max: Fury Road. In our current political climate where people with disabilities are either overlooked or outright ignored by advocates, we need to make sure we get more nuanced, accurate, and positive representation for all people, not just able-bodied members of marginalized groups.