Trigger warning: discussions of suicide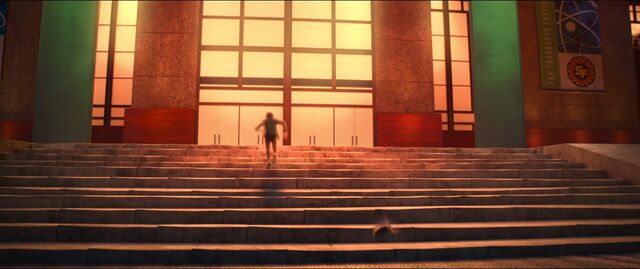 For a lot of people, the saddest scene in Big Hero 6 is the death of Tadashi. After Callaghan sets the showcase building on fire to cover his tracks, Tadashi, with the knowledge that he's still inside, goes to save him, saying "someone has to help". Callaghan escapes with his life, but Tadashi does not, to the horror and dismay of Hiro.
The scene is undoubtedly sad and very well put together, but I have to admit, I'm bugged by the fact that Tadashi didn't wait for the firefighters to arrive. Since Tadashi wasn't a firefighter or a superhero with special powers or training, he should not have gone inside a burning building like that. Every time I watch this scene I go "you fool, you wait for the fire department to arrive!"
But lately I've been thinking: what if Tadashi had ulterior motives for going into that building? What if he was fully ready and prepared to die?
We all  know that Hiro and Callaghan are both going through grieving and depression, and what happens when you get help/let people in versus not getting help/using it as an excuse to hurt others. But what if Tadashi was also grieving and depressed?
Let's take a look at Tadashi's situation. He lost his parents at a young age, but unlike Hiro, who was only three, he would've been able to miss his parents. He would ultimately have to become both a brother AND a father to his little brother, who's very smart but also very vulnerable. Imagine your own little brother constantly going out at night to partake in illegal activities with dangerous older men, and having to be there in time to save him (in the supplementary material it is confirmed it got so bad that Tadashi had to sew GPS tracking devices into Hiro's clothes). That would absolutely take a toll on you. Knowing that you stressed out and disappointed your aunt and only caretaker doesn't help at all. He is shown as being altruistic to a fault, and works so hard on Baymax (who he intends to help a lot of people, rather than help a lot of people on his own) that he neglects his own health.
Like, this is a lot of pressure and stress for a college student. He may appear happy through most of the movie, but it's possible he was hiding a private pain. There are people with depression and other mental illnesses who sometimes hide it through helping others or making people laugh.
So now we get to the infamous scene.
Look how distressed he is. In the fire is his beloved teacher, Callaghan, who was probably the closest thing he had to a father in such a long time. And now he's in danger. Losing him would've been too much to bear. Tadashi takes a minute, looking to the building and back, before ultimately deciding to go in. He knew what he was doing. He was fully aware that he was going to die. But at that moment, he didn't care. To him, Callaghan's life mattered more than his own life, not thinking of leaving behind Hiro and Cass. If he would die if it meant Callaghan could live, so be it.
This may make Tadashi seem less sympathetic, but if you're depressed, you don't make rational decisions. If you see the opportunity to die, you're probably going to take it without realizing it or against your better judgement. I think for Tadashi, after everything he's been through, after losing his parents and constantly living in fear over losing Hiro and Cass, the fact that Callaghan was going to die in a fire pushed him over the edge.
I think it's also important to remember Baymax's role. Considering how committed he was to building that robot, it's possible he may have (consciously or not) built him to be his 'back up'. Like he thought, "If I die, Baymax can take care of Hiro and Cass and fulfill our intended purposes". And ultimately, he would have been correct.
I think if Tadashi was depressed, he would have presented another side of mental illness: the hidden one. The one that is repressed and kept secret until it boils over to the surface and results in the worst outcome. That would add a very tragic, dark layer to the story, but it would make Hiro's journey and recovery all that more poignant.
This is all just my theory/interpretation, so if this idea seriously upsets you, please do not take it to heart. And if you ever feel like you're worthless or you're better off dead/it wouldn't matter if you died, please seek help. There's always someone out there who cares and will help you.