On November 5, 2004, Pixar, which up until that point made films focused on toys, bugs, monsters and fish, released their first feature film with human characters:  The Incredibles.
It was an enormous hit with critics and audiences alike, with everyone clamoring for a sequel (it will come out…eventually). It expanded the superhero genre and showed that original superhero characters can be just as beloved as iconic comic book ones.
Interestingly enough, while live action superhero movies would see a boom (thanks in large part to Disney buying Marvel), there wasn't a slew of theatrical animated superhero movies. For awhile, there were only really two movies that might've fit the bill: Megamind (which slipped completely under the radar) and Despicable Me (but at this point is more of a spy franchise than a superhero one, when it's not focused on the minions).
But then Walt Disney Animation Studios, the first born child of Pixar's parent company, developed their own superhero movie, inspired (very loosely) by an obscure Marvel comic book. On November 7, 2014–almost EXACTLY ten years later–they released Big Hero 6.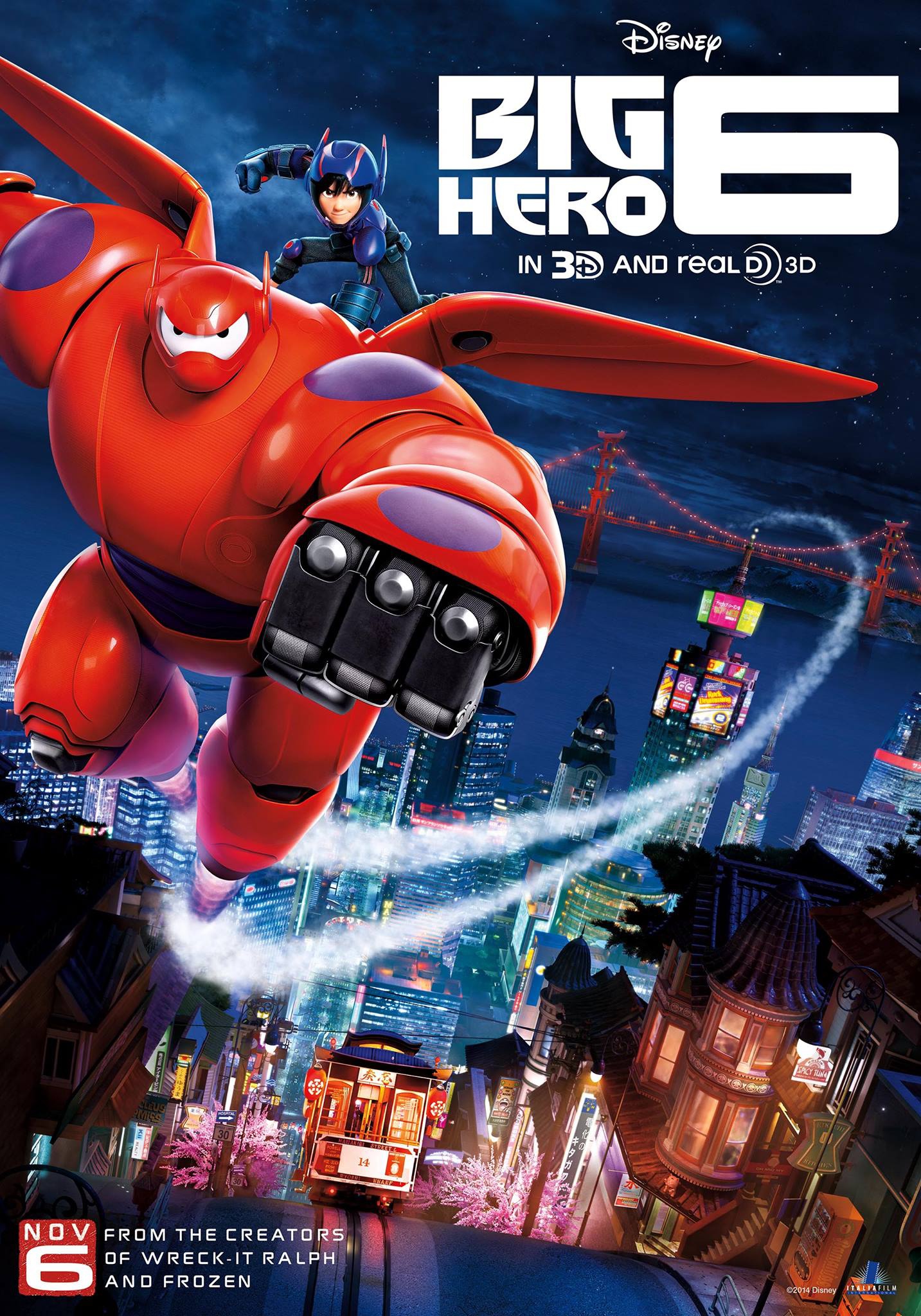 This film was also a huge hit (one of WDAS top grossing films), with lots of fans and demands for a sequel (it is getting a TV series, no word on a theatrical sequel yet).
It's easy to immediately want to draw similarities between the two. After all, both films' teaser trailers involved the heroes trying to get ready for heroics but had trouble fitting into their costumes because of their girth. But while there are a few similarities, in actuality, these movies are polar opposites.
The Incredibles is about a white, heterosexual nuclear family, with a focus on the altruistic older white male father figure; Big Hero 6 is about a mixed race adopted/extended family with the focus on a young mixed race boy who needs help getting on the right path. TI is set in the past (I think it's implied to take place around 1970 or so); BH6 is set in the future. TI portrays technology in a mostly negative way and has a robot as a major antagonist, whereas BH6 portrays technology in a very positive and integral light (when used in the right hands) and features a robot hero. TI is long and rather slower paced, BH6 is shorter and very briskly paced. TI is dark and edgy and has a more complicated narrative, BH6 is light and soft with a simpler story (but still has a very heavy theme). TI is very violent and death is fair game, BH6 encourages nonviolent solutions to difficult situations. And most importantly: TI is about those born with superpowers, whereas BH6 is about ordinary people who achieve superpowers through science and technology.
And that's the biggest thing that separates these two movies: Big Hero 6 leans more liberal whereas The Incredibles leans more conservative.
The Incredibles is a great movie, and is smarter and more intense than a lot of other animated family films, but it does have this weird elitist/anti technology theme that permeates it. There's this awkward moment where Mr. Incredible goes on a spiel on "rewarding mediocrity" that has no bearing on the plot and just feels kind of forced. And for some reason, Syndrome stating that he'll sell his technology so that "everyone can be super…and when everyone is super, no one will be". Umm…why is this a bad thing? I'd be afraid of people misusing the technology, but for a lot of people, awesome tech can really improve people's lives. For a lot of autistic, mentally ill, and disabled people, technology can be integral to their lives. As you can see, the anti technology theme in this movie has not aged very well at all. You can read more on how the movie swings more conservative (intentionally or not) HERE  (be warned, it's a little harsh) but basically, natural talent and Supers are put on a pedestal whereas people who try to empower themselves and be rewarded for succeeding in other ways are almost demonized.
Big Hero 6, on the other hand, looks at the notion and tells it to piss off. Hiro is a natural genius but he is NOT shown as being somehow 'superior' to others. The students (of all races, genders, and ages) are encouraged to nurture and grow their talents, abilities, and interests. Even Fred, who doesn't seem to have any particular special abilities or skills, is shown as special and important. Everyone can be super, and that's not a bad thing.
I just find it very interesting that these are two animated superhero films from Disney that have wildly different themes, messages, and tones. I suppose ultimately that's a good thing, since you wouldn't want both films to be generic superhero flicks or for BH6 to be a complete TI ripoff, but it kind of says a lot on just how different Pixar (on a good day) and Disney really are.
That said, both films have one major similarity: the importance and value of family and friends, and how they can help you get through difficult times. And I think that's what makes both films so great, and sets them apart from other superhero films in a special, positive way.