A few weeks ago the Overwatch team began posting pictures and information on a new character, an 11 year old African technology prodigy named Efi Oladele. People were curious what this was leading up to, since it was unlikely she'd be a playable character (there are laws in other countries prohibiting child characters in violent fighting games).
Well, today it was revealed that Efi was the creator of Overwatch's newest tank hero, the robot Orisa!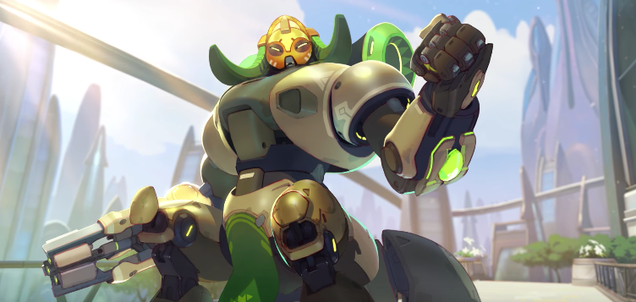 What I like right away about this character is that it's a female coded robot (fembot) that ISN'T sexualized or a maid. In a lot of media robots are mostly gender neutral (but still meant to be read as male) whereas the more gendered robots are highly feminized and often put into sexual or subservient roles. So, to see a female-aligned robot being big and bulky and as a fighter/protector is a real refreshing turn of events. It's also nice seeing more bulky women (human or not) in the game, Zarya was looking kind of lonely there.
What we know about the character so far is that she is concerned about protecting people and keeping them safe, but still has a lot of work to do. It would be really neat if we could see her interact with Bastion and Zenyatta and what their dynamics would be like.
People are already drawing parallels between Orisa and Efi and Hiro and Baymax and I think that's adorable. I think we need more stories of robots being helpful and caring (rather than just mindless drones or usurpers). Overall, definitely looking forward to this character and what role she has in the overall lore.